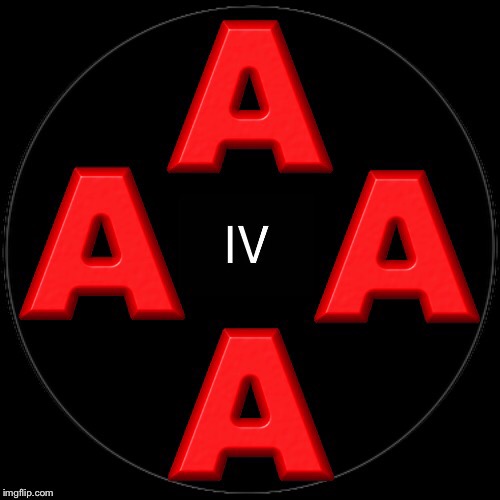 Welcome to the A.A.A.A or quadruple A or the Agency Against All Agency's. Here our main rivals are all agencies that are devoted to causing chaos and mayhem. This means you A.A.H.W and you A.A.T.A.A.H.W. We have multiple ranks for all the people who join our cause as well as a pledge if you join.
__________________________________________________________________________________________
Origins
Humanity has always been in chaos, Wars Riddle our history. Through the ashes of madness an organization rose to power, it sought to undo the evil and bring order. The Agency Against Anarchy and Chaos, with the job to be the world government. They reach every part of the world and ruled by the AAAC council. After the Nevadan crisis it was reorganized into the Agency Against All Agencies.
Enemies
AAHW
: These guys own Nevada so now we must take it back with our own hands.
AATAAHW
: These guys help take down the AAHW but we need to take them out as well as they feed the fuel to thrive the AAHW, but we may Allie with them when it benefits us.
Green pepper cultist
: These nerds will attack people so we must stop them at all cost. They are a minimum threat as their numbers are small but be wary they will kill you
Hive
: Bugs trying to sting us, good thing purge troopers take care of them
TSE
: They need tea but we stole it because they were an agency, now they are enemies so we fight them.
AAHW split divisions
: All of their groups are enemies so we must stop anything they do and not be afraid to learn from it. This mean you AAHW-SB and the
A
AATAAHW
The cursed
:They believe that we are like the third reich, we must put them down to remove the naysayer. They pray on the weak so we must pray on them, main enemy.
The undead warriors
:More enemies
IWAI
: Hostiles
N51
: Special soldiers that need to be put down, sorry dudes
Revolutionary warriors
: While our ideals are the same they must be destroyed, only one order can stand and that's the AAAA
The rebellion: Rebels? What is this Star Wars? Either way we can not have this, you must be put to a stop
I.E.S.B
: Unkown to us, but they to must be removed in order for us to have control of Nevada
Aregonian Empire: Former faction coming to rule Nevada. You were put down once, this time we'll put you down
T.C.M
: People who are a faction and is thy enemy, they supply our enemies with soldiers. This corruption will not be tolerated
D.L.C
:Rejects of failed experiments, while we do pity you that does not mean we like you. No one must stand in the way of the AAAA
DAD: AAHHH BURN THEM ALL BURN THEM!!!!!
The U.S.S.R Embassy: Soviets should stay dead, looks like America is needed here
N.U: Noobs recruiting NOOBs, I don't think they're a threat but take them out of their misery
The A.O.A: Basically The AATAAHW but for nexus soldiers, I don't like they way they look so exterminate them
The employers
: Heretics that have sent soldiers against us, let us remind them why they were sent out again.
Basically every faction
Neutral
Basically anyone who don't pose a threat to Nevada or are neutral to everyone. Like the bakery. Exceptions will be made for those who accept refugees or are generally help the good people.
The Nevadan protection agency
: We are suspicious of their course of action but remain friendly to them, supplies will be shipped to them as long as they are not a threat.
A.A.T.A.A.T.U.D.T.N.A.A.L.A.U.A.F.T.B .O.H: Uh don't bother us, we have no idea what you do
Live of dead
:They say they are neutral and we remain on friendly terms.
Allies
Freelance scientist:While not mainly an enemy or ally we decided to hire these guys as extra help for our projects.
Azure Striker freelance agency: Our Guns for hire
__________________________________________________________________________________________
Soldiers and leaders
Captains: squad leader of the Kanonenfutter, these guys wear helmets with some Kevlar armor chest plate. They are like the engineers but less on machines and more on fighting
Shock soldiers: These are experienced captains that have learned to defeat soldats and other factions elite troops. They are slightly better than a soldat but not stronger than anything above that.
Spec ops: These guys have special night gear that allows them to blend in with everything and dress up to be anyone, they could be that guy right there or that phone your holding. If you made it that far.
Anti Elementals: When we started testing with the zombie virus we created several unknown creatures. We have created this special type of soldier to counteract these elements the virus creates and adapts to. The soldiers can counter improbability and the elements but are restricted to one choice.
Metal giants: Machines built to rival mag agents, they are about the size of one and can handle as much but are slower. Upgraded versions are still being processed before being completed
General: The leader of most operations, there are only three of these at for any herrscher and the carry out orders to the letter. They are considered to be highly skilled killers who are able to take out enemy bases extremely fast. They are like the hank of our order but weaker.
Herrscher: The leader of the organization and runs all operations, he is apart of a council lead by five people. These guys run part of our organization, they are probably a rival to the employers as they have ancient experimental weapons to effect them.
Praetor: During the roman times two people would lead the roman empires greatest armies. Now we have increased the amount of people to take this role. They run the true organization and make up the AAAA council.
A.A.A.A council: This is made up of the who run the entire organization. They determine wether to invade or destroy anything. They are spread out across the world so if one falls the others will make up for it.
__________________________________________________________________________________________
Ranks
Grunts: Yeah you know these guys, they are the basic types of enemies equipped with knifes and small melee weapons, and pistol weapons. Sometimes may be given a suicide vest to make the maxium use of their fleshy mobility. They are outfitted with standard green to gray clothes and often have the symbol of the organization on their chest.
Officer: If you managed to proceed past the rank of grunt you will become an officer. You will be issued a shiny green suit with some glow in the dark glasses. Officers will be outfitted with the better pistol and SMG, you may also choose to grab a short sword and a pistol if you like.
Staff Officer:You are given light machine guns because we need you to suppress the enemies. You will be out fitted with LMGs but wear the same suit. Consider it an honer.
Majors: You proceeded past the rank of officer and now make an excellent stratigest and can be of use to us. You will be outfitted with a SMG or Shotgun. You can also recieve a medium size sword to use in battle. Your task is to instruct the lesser units in battle and make sure they don't kill themselves. You will be wearing green combat vest and wear a standard hat that's mostly green, cover up that bald head of yours.
Commander: With this rank you can become a very deadly fighter. You will be outfitted with an assult rifle and/or Shotguns. Your job is to be a menace to the enemies and kill extremely fast. Just don't go mad with power. You also get this nice green,shiny helmet to protect you head. You also get Kevlar armor.
Commander Major: You are the heavy weapons guy, this rank is only given to those who are our best and most skillful. You guys will be outfitted with Heavy LMG and/or Assult rifles. You will provide suppressing fire as well as take down some of the deadliest forces the opposing agencies have. You will wear a bullet proof vest as well as a full metal face mask that protects you against .25 cal
General: The best stratigest there is, you are what others dream to be. With this rank you will command most of the troops as well as be outfitted with standard weapons of your choice. You will wear and fancy captains hat and a heavy vest. This vest can help you tank even the strongest of bullets. Just don't step in fire too much.
Zealots: You are better than everyone, but you are kept away from the rest and trained in the art of combat at a very young age. You will be outfitted with green and gold armor as well as our recent technology that gives you combat shields. These shields block any type of ballstic weapons short of rockets. These shields require batteries that will need to be recharged after each engagement. You will be given any weapon of your choice and be sent on suicide missions, your armor will self-destruct upon your death or if you say a code word.
__________________________________________________________________________________________
NEW addition
The German branch
Welcome, this branch of the AAAA is dedicated to experimenting with anything the AAAA fight or want to make. We have tested out the zombies and have managed to upgrade them. Not to worry, they'll only attack things we send them at. Anything you want we have although currently we are busy with other factions so you'll be very occupied.
Thank you- The Herrscher
The virus
When creating the human augmentation process we discovered different strains and variants of what changes humans. A scientist (Deceased) created the virus by experimenting on himself, the thing was that this wasn't the original virus. The doctor had discovered something within the chemicals that could destroy certain cells in the body and create a tumor in the body. These tumors would act as the "Pure plague" part and slowly over take the body. The virus then gains sentience from the hosts brain and can sometimes carry the thoughts and traits of the host.
Shamblers: The basic form of the virus, normal humans become lumbering husks of themselves to spread the virus. They bite or sometimes try to knock out people for later purposes
Berserkers: The tumors within the creatures body has mutated it so that the speed and strength of the creatures are increased
Chain Mail:Noted for their appearance and how they look, these guys look like squids and attack in a spinning motion. These creatures give the AAAA members so terrifying nightmares.
Elementals: As a byproduct of the initial infection, these thing form when they are near a certain element giving off a certain vibe. Flame versions by fire, ice by freezing weather and so on. However they developed weakness to their elements weakness.
Thrashers:The infections made the creatures grow long tentacle like arms that will stretch out and grab any unsuspecting person and drag them deep into darkness.
Pure forms:Although not particularly seen often, when a hive is produced the infected individuals will walk into rooms and the tumors within them will explode. Making the biological matter of the host combine together to form a form of the creature that has the adapt features of a human but new and horrible features of something... other worldly
WARNING
These infected creatures may not be controlled at all times and after testing has confirmed that it will take over other viruses such as the nexus pathogen. Make sure that they are contained at all costs or else the Nevada will fall, and next the world.
Nullifiers
Ultra:When the AAAA first encountered the magic of world, they were terrified and fell ill to its power. Only through the use of these machines have the organization thrived against mystical forces. However the effects of the improbability drive have weakened its area of effect to just its base.
Nullifying soldiers:Similar to the anti Elementals, these guys are special designed to set up bases and stop most magic users such as [Redacted] and [Redacted] from attacking. NATO has asked for them to be shut down but with the recent rise in chaos of Nevada they have been reactivated to counter the threats many pose.
Purge troopers: Specially designed for taking care of pure forms of the plague by use of Traditional resources such as fire and ice. They are the last defender against the plague
Questions?
How do I join?
Simple talk to one of our local recruitment centers for us to sign you up. We won't promise it will be quick but you will at least be able to get in if your determine enough.
What kind of training do you have?
We have very harsh training, some people don't even survive the first year without quiting so be prepared
Why do you hate all Nevadan agencies?
Because they all need to go in order for order to be restored in Nevada, don't worry we won't be bent on mass extinction like the nazis but we will Anschluss any agencies that join us.
Why can't I rank up?
Because you aren't fighting hard enough, so you know do that.
We want waring with you!
Good let's go you won't win.
Whats the pledge?
Our pledge is of high honor bound and if you are to betray us then the sentence would be death. You can leave but don't betray.
Are you guys really the fourth reich?
No, but our German branch may refer to themselves as the fourth reich. We try to keep them in check.
__________________________________________________________________________________________
Super secret(not) projects
Advanced ultra nullifyer: This machine will hopefully counter the effects of the improbability drive and create a long and prosperous peace between the land.
Zed control interface: Upon raiding a nexus base we found their machines to control the zeds, so we are modifying these ones to control the plague
Food stands: Gives food out to the survivors of this chaos
Anti-telepathic armor: When we discovered artifact [Redacted] our soldiers were under the influence of its power. We are designing armor to counter this artifact. Quarantine zone initiated
Nuclear powered weapons: Weapons only to be wielded by purge trooper, these weapons harness the radioactive materials from a nuclear blast site and transforms it into viable kinetics energy matter. Revolutionary for cleaning up radiation, however when the weapon it discharged it will released the radioactive materials back out.
New members!
The running man
:Rank Captian
CBdrawer95
: Rank Grunt
Guns for hire: Asura Striker
Thank you for your contribution and we hope to see you rise through our ranks of this great organization, glory to the A.A.A.A and we will see you at the fight!
A new threat to all agencies has arisen, this one will undo the chaos that is madness.